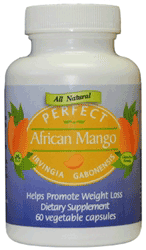 100% Pure African Mango
Perfect African Mango is an all-natural and clinically-proven weight loss supplement made with IGOB131. Perfect African Mango also supports healthy cholesterol levels and overall health.
IGOB131 is a unique seed extract of African Mango (Irvingia Gabonensis), and the only ingredient used to create Perfect African Mango. IGOB131 obtained noteworthy results in a double-blind placebo study published in Lipids in Health and Disease Journal (3/2009).
The following is a quote from the IGOB131 study available at PubMed.gov…
"The participants who received 150mg of IGOB131 showed "significant improvements in body weight, body fat, and waist circumference as well as plasma total cholesterol, [and] LDL cholesterol…"
Perfect African Mango includes the exact amount used in the study: 150mg of pure IGOB131. Like all Perfect Supplements, Perfect African Mango does not contain fillers, flow agents, stimulants, or any artificial ingredients.
African Mango (IGOB131®) Health Benefits
Weight Management
Boost Metabolism
Appetite Control and Satiety (Feeling Full)
Cardiovascular Function and Cholesterol Levels
Blood Sugar Levels
Healthy Inflammation Response