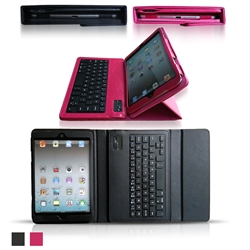 The KX101 by Alpatronix is the smartest addition you can get for your iPad mini. A classy and elegant case, the KX101 adds a touch of class, protection, and functionality to your iPad. The exterior is made of premium vegan leather material that is tough to the environment and keeps scratches and dings away from your iPad mini's external surfaces. The removable keyboard makes typing on the iPad very easy! This keyboard is much easier to use than both the iPad soft keys, as well as silicone or plastic keyboards currently available on the market.
The keyboard easily pairs with your iPad for first time setup. After that, it can automatically detect the iPad and pair in less than a few seconds, and then you're good to go! The keyboard has many of the frequently used keys such as brightness and volume control, home key, screen lock, and play/pause/forward/rewind keys. It simply turns your iPad to a super portable laptop! Need extra portability? Simply remove the magnetic keyboard and use the case alone!
This product comes in both black and pink color variations to match your style no matter what!