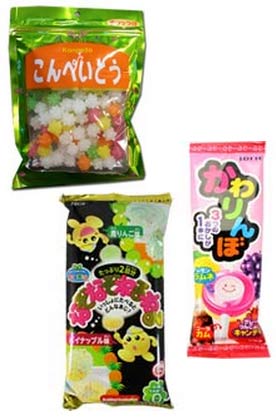 Here are some great tasting Japanese Candies you can buy online. First we have the Kompeito. This traditional candy has a great taste from Japan that's been around for more than a century, this is Kasugai kompeito (also written konpeito) candy, a kind of hard candy that looks like stars, exploding out in all directions. This is a tasty package of an authentic sweet candy from Japan's past, with a ziplock seal for freshness. Each package is 6″ x 8″ (15 x 21 cm). As seen in the Ghibli film Spirited Away, by Hayao Miyazaki (this is what Kamaji feeds to the little soot sprites, called Susuwatari). Since this candy has been loved in Japan for more than 400 years, it's also good for fans of traditional Japanese "dagashi" treats.
Second we have Kracie Nazo Nazo Neru Neru. The package featues two unique flavors of Neru Neru Nerune DIY candy powder, apple and lemon, but also includes a special "mystery flavor" that will change the flavors or taste somehow when eaten together, perhaps making it sparkle with magic in your mouth. Includes calcium to help build strong bones. Just add water with the included ingredients and mix until you get a fluffy treat that can be eaten alone or with other snacks.
Third we have Lotte Kawarinbo. This one of a kind lollipop features a number of delicious candies in this one fun package. At first you'll think it is just a regular lolipop, but it hold a few secrets. The outside has the appearance and flavor of a regular grape and apple dual-flavor candy, but on the inside is a secret ramune flavored candy waiting to be found. And when you think it is all over, the stick that holds it all together is actually a stick of cola flavored gum, wrapped up for holding — just peal away and enjoy!